Hello out there!
Did you know that yesterday was the anniversary of the Battle of Hastings?! I used to live in Hastings and am rather fond of the place, from the sessions at the Wellington I used to have with Barry Dransfield, Dave Roberts and Chris Fyfe to gazing at those amazing enormous fishing huts and of course, the sea. . .
. . .and to commemorate quite a famous battle, here's a message from playwright Brian Abbott :
From: Brian Abbott <brianabbott6@hotmail.com>
Subject: Brian Abbott- Harold The Last Elected King
My favourites, for birds are a "feast of ravens", and a "murmuration of starlings"; perhaps the generic name for a group of accordionists should be a "squeeze of accordionists"?
Hope you've had a chance to listen to
It's 16 monologues from 16 characters along Harold's route from the Battle of Stamford Bridge to the Battle of Hastings 950 years ago this October written by me and produced by Philip Parr; they've been going out one a day for the last 13 days, with three to go. (They are all still available, on the site, and will be for some time) but I would urge you to have a listen to Gytha's Story, (Harold's mother watching the battle from a distance) and William's story, they are now 950 years this week!
For three years I have been researching the whole story, pushing the project, and for three years we Parrabbola have been knocked back on funding applications.
So now Philip and I have reduced the huge concept we had of joining up all the cities Harold rode through on his way down from Victory at York to (plot spoiler warning!) his defeat at Hastings.
Now we have set up a website with 16 monologues from different characters in the story, one going out per day (we are already on day three), but the stories so far can be caught up on the same website.
If you click on:
www.haroldthelastelectedking.co.uk
Once you've reached Home site. Click on the part at the top bar which either says The Journey or The Story (we are adjusting as we go to make it easier to use).
To the right of each illustration for each story there is a Grey Sound Button . Simply click on that, and you are in business; you may have to fiddle to get the stories in order.
You'd be surprised how much you don't know about the events of 1066 – Did You know that Harold was the Last Elected King of England? ( by considerably more votes than were required for Theresa May's "Coronation".)
Did you know there were 3 battles in 1066; Harold fought 2 of those within the space of three weeks, riding a 500 mile round trip in between?
Do you know how he died? And no, it wasn't anything quite so pleasant as a simple arrow in the eye.
The monologues are not all from the main protagonists. Bystanders, ordinary people who were swept up in these enormous events figure just as much.
I hope you enjoy them
Did you know that under Saxon Law, women owned their own property before, during and after marriage? Something that was to take over another 800 years to re-establish.
Please tell everyone you know!
Regards – and by the sound of it, it's nice to hear you are in fine fettle.
Brian

Thank you, Brian – as ever, Parrabbola are up to great things whatever the weather. Most passionate creative people are; we don't thrive on adversity, we create despite it and I have realised, for some time that it is not what is created / performed / shown now – it's how it will touch and inspire others in years to come. Possibly long after we have died. . . .and maybe not; the important thing is that creativity is allowed, encouraged and seen.

And actually, we are all creative – the whole point is that amazing things, people, events, performances, brilliant ideas in any subject, do, by their very nature, encourage all of us to be more creative – that it is possible and very OK to do so. Only we convince ourselves that we are not creative or 'good enough' to be so. How barmy is that?

Look at this. . .last weekend's harp making course at Harp On Wight looked like great fun. All hands on and not a pc or tv in sight. . .keep the dates for next year – see www.harponwight.com
(Photo : Diana Wood)

I do feel for the many do-ers, risk-taking promoters and artists though. As Brian pointed out, there was a lot more passion and 'get-out-and-do-it'ness in the past; perhaps we have all become complacent in our convenience society? Are we becoming a worldwise and expert community of complainers who sit and moan at the telly or chortle at 'Have I Got News For You?' (as I did on Wednesday evening). . .but what do we actually do about any of it?

Last night my solo concert in Bangor was cancelled, due to lack of interest. I felt sorry for Graeme, the owner of Caffi Caban. With 4 advance ticket sales, plenty of promises can't assure him to open his doors; not only overheads but staff to pay.

I've heard this story too many times in the last 6 months, from both artists and promoters. Despite massive social and general PR work, putting up posters and contacting local media, people promise but don't come anymore, apart from going to see football matches (despite the scandals and even though they complain at the madness of the money involved and then happily pay amazing amounts for a ticket), cover bands (which in turn encourage more and more promoters to stick to this type of event) and streamed events. Personally, while I do see the place of all these events in a balanced programme, it saddens me that originality, a real live and possibly intimate experience is being squeezed out because the footie, covers and streamies are way easier to sell.

And like the high street bakers, butchers, fish mongers etc who have been forced out by the coalition of local councils and large scale supermarkets, the more creative events / people will all eventually just stop and once that happens, that craftsmanship will never return.

The world won't stop if I stop performing but I, for one, would be sad if songwriters like Mark Hickman (below) stopped writing and performing his amazing songs about the sea, ships and life on the Isle of Wight. As a luthier, boat restorer, sailor. musician and songwriter. . . and one who has lived in the area (Seaview and St Helens) he was born, he has a rare ability to write well, make beautiful imagery with words and music and touch so many people who happen to be where he sings, like at this ceilidh the other night. That's great social comment to me.

(Harp On Wight Ceilidh Photo : Peter Ellis)
It is interesting to think that people actually lost their livelihood, died, went insane, were prepared to be imprisoned for years to get votes for all and human rights sorted (Chartist movement / Suffragettes / Ghandi / Nelson Mandela / Nina Simone etc to name a few and look again at what happened during the McCarty trials in the US in the 1950s and 60s) and now so few people are prepared to vote or think they can demand a second referendum / election as if it costs nothing to do so.
It also interests me that so few record sales mean you get a Number 1 hit; and that we live in a society that is supposed to be more convenient. less stressful and save us time and paper when all it seems to create is less time, more stress and more paper.
There is scandal after scandal and big companies not having to pay massive tax bills. I am no longer angry – perhaps it is the way of the human race.
Perhaps we have lost the will to do anything about it? I started to count, the other day, the responses to 'How are you?' which resulted in:
'I'm so / too tired,'
'It's been full on, for months, at work,'
'I'm really stressed out'. . .
It was alarming.
I think that the government have a point in decreasing the amount of creative arts in the curriculum. . . if we lose the ability to even think creatively, we will be so much easier and trouble-free to govern.
If we are too tired or stressed out to bother, even better. We may not notice the detail anymore.
My mother used to love telling me about how she and her sisters would walk 15 miles to a dance, often barefoot, in the summer, to save their stockings. They would then dance all night and arrive home just in time to change and go out to work.
Perhaps there are too many events available now or perhaps we are all too comfortable because there will always be another night of fabulous creativity. . .
And, while watching the buskers for a few minutes, in Worcester (the photo at the top of this blog were singing some great political songs), I suddenly remembered a popular poster in the 1970s which read:
'What if there was a war . . .and nobody came?'
It is interesting what people can be bothered  to do, nowadays.

Last night's gig cancellation is more data for me rather than a disaster. I'll keep shouting about great creators / performances and do something else, myself. . . and here's several well worth reading about :
from Chez Dunford :
---
From: Chez Dunfois <cheztheatre@gmail.com>
Sent: 13 October 2016 10:57
Subject: Greetings from Performers Without Borders World
Dear Lovelies and friends and work colleagues and human beings, 
I have been working with Performers Without Borders since 2013 as a volunteer and have since co-ordinated the India Tour and become part of the management team for the whole project. What comes with this is understanding the history of the work as a way to forge the future.  We have just had our AGM and will truly struggle to continue this massively important outreach work if we don't raise £7000 by April.  
We are running a campaign called the Fab 500 and are encouraging all the lovely supportive people to join for £2 a month. If you can and are able to have a look and join in that would be most fabulous. 
In other news! I'm joining the Kenya project in January which is very exciting.  I am definitely ready to go back out on tour and remember why I spend hours doing all the admin! 
So, as such, in Bristol on 4th November, I am organising a cabaret, folk music and DJ dancing night at The Loco Klub in Bristol.  It would be aces if you came down or let your lovely people of the South West that it's on.  We have a pretty hot cabaret lining up….and not 1 but 2!! Funky Djs!
And tickets directly from here:
I hope all is well with you, 
And do get in touch with your news, we do regular sharing work sessions and it's great to be in touch with the wider community of creative work. 
Big loves, respect and smiles, 
———-
Now one of my favourite creatives is Tim Dalling. Here's what he has been up to:
Shearwater: seabirds, stories and songs
by
Tim Dalling and Malcolm Green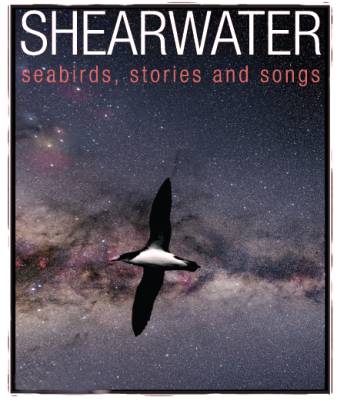 Shearwater Tour 14th – 16th October 2016
Friday 14 October, 7:30pm Broadoak Village Hall, DT6 5NL.
Box Office: 01308 424922 – Artreach.
Saturday 15 October, 8:00pm Evershot Village Hall, DT2 0JY.
Box Office: 01935 83784 – Artreach.
Sunday 16 October, 7:30pm Milborne St Andrew Village Hall, DT11 0JX.
Box Office: Box Office: 01258 837371 – Artreach.
Learn more and see the Shearwater video on Tim's website.
Shearwater opens a world of beauty, loss, longing and timeless truth through personal and mythic stories and songs. It gracefully balances the heartfelt and the humorous, never losing its footing but letting the audience know they are on the edge.
In 1969, storyteller Malcolm Green spent three months on a small, uninhabited island off the coast of Iceland studying huge colonies of seabirds. His experiences there form the frame into which many different journeys are woven: from the extraordinary life of the shearwater to a young man's coming of age and the transformation of the gull-woman.
"What comes across so vividly is their passion for and wonderment at the British wilds and at seabirds – from the majestic Manx Shearwater to the fattest puffiest puffin.
"..you can almost feel wings beating in your face, smell the salt spray and hear the sea crashing against the rocks. There follow more tall tales and songs sung in Gaelic and Siberian, some recipes for puffin and the prophetic story of the demise of the Great Auk.
"It's impossible not to be moved and transported by Shearwater, and at the same time also disquieted by the ineluctable effects of global warming on delicate eco-systems and their winged and finned inhabitants."
Venue Magazine, Bristol

(Photo : Diana Wood)
I'm off to Germany, Sweden and Finland soon for music, forests, starry lakes and to learn about gingerbread architecture!


Meantime, I'm back to the drawing board to finish Christmas card designs, continue work on Vol 2 of my Merrie Melodies book and work on some improvisational ideas that Karen Street has been suggesting. What fun!


(Photo : Diana Wood)
Tomorrow, I'll be hosting an Accordion Day in Bangor. We won't be making one (yet) but we will be deconstructing techniques and approaches to playing music. And then taking the magical ferry across The Irish Sea. There's a great session in Tarmonbarry next Friday night if you are in the vicinity of Roscommon / Longford. Starts at 9.30pm. Can't wait.


Lastly, many thanks for the responses to my last blog – more about them and more photos from Harp On Wight in the next one.
And here is a poem from a friend. Have a creative weekend 🙂
I strolled by the canal on a sunny autumn day;
I heard the birds sing but I saw a hideous factory.
Four storeys high, its windows blind oersaw the path below.
What happens here? I asked myself, and then I asked a man
Who was coming down the path with his dog, a lovely soft, brindled greyhound.
"They make toilets", he proudly claimed. "This is Armitage, you know.
And Shanks's factory is a major employer,  at least its American owner is".
I struggled for words; there's not a lot you can say to that.
So I fondled the dog's ears, wished him well and left.
xK 
KT DATES
OCTOBER
Sun 16TH  October : Karen Tweed BANGOR Accordion Day
10am – 4.30pm
Tickets : £40
 Bring and share lunch
Info and contact : Annie 01286 673696 / annie_adprin@hotmail.com
Sat 29th  Oct : Karen Tweed: LLANDINAM, MID-WALES The Severn Suite (with John Kirkpatrick) 10 Years On
Venue : Llandinam Village Hall, Llandinam
www.tradartsupport.org.uk
To buy the Severn Suite Book see
http://www.tradartsupport.org.uk/shop.html
NOVEMBER
Wed 2nd November : Karen Tweed : TEACHING WORCESTER
See www.learningaccordion.com
Thurs 3rd November : Karen Tweed : TEACHING WORCESTER
See www.learningaccordion.com
Fri 18th November : Karen Tweed & Friends : AVENING, GLOUCESTERSHIRE
The Avening Church Ceilidh, Avening Memorial Hall, Avening, Gloucestershire, GL
8.00pm
Tickets £15 / Children £8 (includes a delicious hot home-made supper)
More information : Piers Hansen 01453 836207 / 07770 745642
piers.hansen@btinternet.com
DECEMBER
Wed 7th December : Karen Tweed : TEACHING WORCESTER
See www.learningaccordion.com
Thurs 8th December : Karen Tweed : TEACHING WORCESTER
See www.learningaccordion.com
=============================
Round and about. . .
1. From: Becky Haydock <beckyhaydock@gmail.com>
Subject: Winterfylleth – Saturday 26 November, 7pm til late at Porchfield Village Hall
Winterfylleth is returning for another year. An evening of enchanting music, poetry and song. This year we will feature music from – 
Millicent's Favourite, folk music favourites (with clog dancing too!)
Joe Caudwell on didgeridoo, vocals, guitar and drums
Chamber folk-pop from Douglas Richards of Plastic Mermaids, with string section (Kathy Grimshaw, David Hences and Becky Haydock)
Poi and shadow dance from Fany 
…and poetry from Joe Tapsell and The Return of the Native. 
All happening at Porchfield Village Hall on Saturday November 26th.  Tickets are £7 adults and £3.50 children. There will be a bar and stew on sale. 
If you would to come along please reserve tickets by return of email or ring/text me on 07969 735728.
2.Ian Storror's Jazz at the Albert
www.jazzata.com
JAZZ at the Albert GIG-UPDATE
Sun 18 Oct: Kristian Borring Quartet (Jazz)
Fri 21 Oct: Eric Taylor (USA) (Americana/Folk)
Sun Nov 6: Andrew Bain Project feat; Jon Irabagon & George Colligan (USA) (Jazz)
Sun 20 Nov: Damon Brown 'Korean' Trio (Jazz)
Sun 27 Nov: Domonic Howells Quintet (Jazz)
Sun 4 Dec: Bastian Stein Quartet (Ger & UK) (Jazz)
Sun 11 Dec: Andy Sheppard's "Hotel Bristol" (Jazz)
2. Sessions in the Longford / Roscommon area of IRELAND :
1st and 3rd Tuesday of the month – Tallyho Pub, Longford town 10pm
Every Wednesday – Camlin Bar, Clondra, Co Longford 10pm
Every Thursday – Carthy's, Roscommon town 10pm
1st Thursday of the month – Hanly's, Strokestown, Co Roscommon 10pm? –
Every Friday – Longford Arms Hotel, Longford town 10pm
3rd Friday of the month – Shannon Bar, Tarmonbarry, Co Roscommon 9.30pm
All are free admission. All welcome.